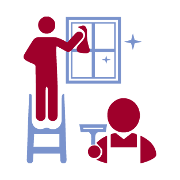 Do you want an impeccable cleaning of all glazed surfaces?
Windows, patio doors cleaned in the smallest detail and always completed with a cleaning of the frames and rabbets.
The duties of a window cleaner at ACSED :
Windows and patio doors
Conservatory , glass wall and glass roof
Doors and shutters
Glazed bodyguard
Contact us, we are at your disposal
and because every detail counts the rate of the service* includes all the duties
depending on your needs !
The rate of each service includes management costs, travel costs of the employees to your residence, insurances and the services accomplished.
* 50% tax deduction
Free personalized quote for a service or a package services whose total price is equal to or greater than 100 euros per month or to the consumer who requests it for any service or package services whose monthly price is less than 100 € per month.
Invoices are payable at the end of the month by :
Bank transfer
Pre-Financed Employment Cheques for Universal Service (CESU)
Bank Cheques